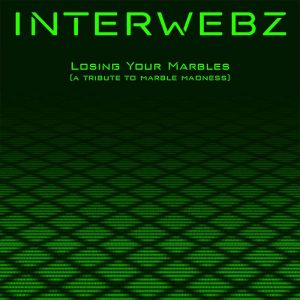 Interwebz
Losing Your Marbles
(A Tribute To Marble Madness)
Losing Your Marbles by Interwebz is a tribute to Marble Madness, Atari's arcade game released in 1984.
Listen Here: https://interwebz.com/interwebz-losing-your-marbles-a-trib…/
The original music by Brad Fuller and Hal Canon gave the game a unique and memorable sound, and it was Atari's first game to use a Yamaha FM synthesis chip. 🎶
Interwebz is the electronic music duo of Will Loconto and Assaf Rinde.
Will Loconto
Will is lead vocalist/songwriter for T-4-2 (Columbia Records) and has spent several years on tour with Information Society (Tommy Boy/Reprise Records). Complimenting his work in electronic music he has contributed to many high-profile video game projects including Rayman Raving Rabbids, Aliens vs. Predator 2: Primal Hunt, American McGee's Alice, X-Men: The Official Game, and Big Hero 6: Battle in the Bay. Will's work has also been heard on television shows including American Ninja Warrior, Building Alaska, NFL Total Access, andHap and Leonard.
Assaf Rinde
Assaf has scored over fifty film, television, webisode and video game projects including films The Pulse of Life, Gimme Shelter, and Amexica. He worked on such high-visibility films as Ghost Rider and Spiderman 3, and contributed music for the popular video games Rocket Toss developed by OCULUS and Thor: God of Thunder. Assaf has also scored theatrical trailers for major studio films such as Tomorrowland, Jack the Giant Slayer, Now You See Me, and Pirates of the Caribbean: On Stranger Tides.
Tiger Darrow
Tiger is a New York University graduate with a B.A. in music. Primarily a solo artist, Tiger has had the pleasure of co-writing and performing in the bands of other artists, including Wakey! Wakey!, the Yanni Burton band, Jonatha Brooke, and Rosi Golan. Other projects that Tiger is currently involved in are Tiger + Man with songwriter and film composer Andrew Orkin of Look Out Kid and MINK, an electronic collaboration with Dallas producer Adam Pickrell. Tiger's music can also be heard in various feature films like Robert Rodriguez's Machete, Megan Raikos' Crushed, South Africa's "fastest film ever made," Shotgun Garfunkel, and several short films.